The last significant technological change for aluminum cans was the "stay-on tab" created in the early 1980's. A glaring missing factor in the metal cans otherwise flawless design has been resealability. This has kept cans from being the ideal container option for various market applications and lifestyle uses.
Now, CanReseal® changes everything.
CanReseal is a revolutionary can end design that adds threading just below the ubiquitous double-seam. This allows a metal closure to be screwed into the top of the can to create an air and liquid tight seal.
Stated simply, CanReseal's patented design effectively adds threads to today's modular assortment of can body sizes and diameter options, turning commercially available cans into resealable metal containers for many markets and product applications. CanReseal's approach to resealability is configurable multiple ways to suit the of the product application and brand requirements.
It's time for the packaging industry to move forward. Canovation is poised to be the catalyst for big change. It's time to evolve.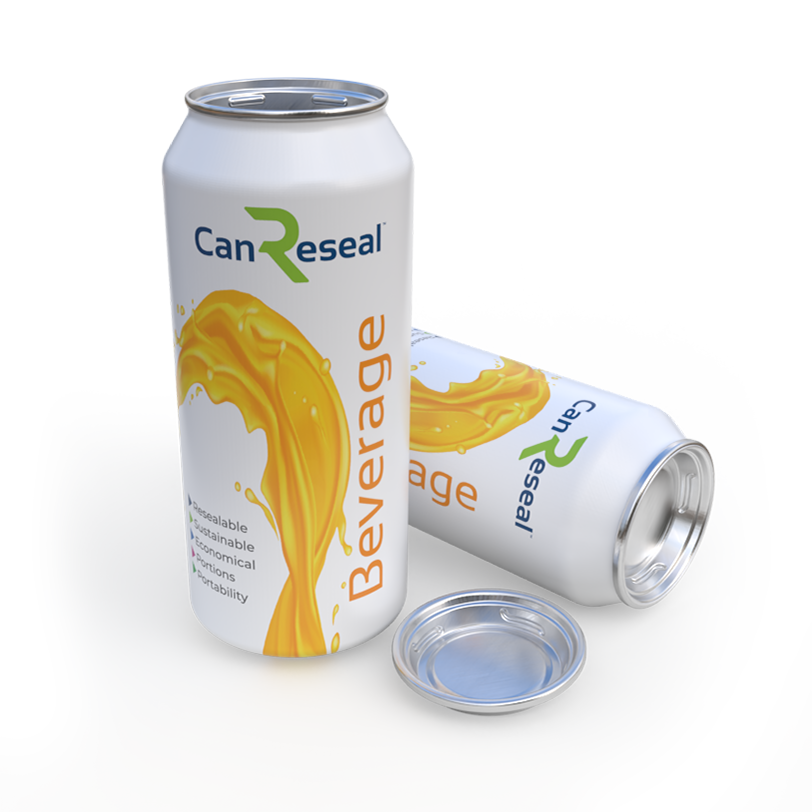 The CanReseal
Configurations
Adaptable and Configurable
The CanReseal Ring-End stands apart from other resealable can solutions with its simple design. Both the threaded ring-end and respective closure are both made like conventional can ends. Seaming a CanReseal ring-end onto a standard metal can adds threading to which the corresponding closure screws into to provide an airtight seal.
Marrying today's conventional can opening methods like the Stay-On Tab, Easy-Open End, and Peelable Foil ends with CanReseal's airtight resealability opens a up a whole new range of packaging options for product brands.
CanReseal Ring-End (CRE™)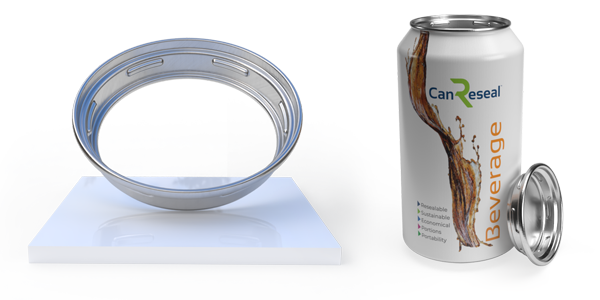 CRE™ turns cans into resealable cups, bowls, or jars. For a whole spectrum of applications, the CRE™ provides a compelling resealable container solution.
Notably, the CRE™ configuration pushes current affordable can economics while adding value and functionality. The all-metal and resealable CRE™ lid and closure components do not require a "conversion process" typically associated with can end manufacturing. There is no need for a score, rivet, or tab, saving on both material costs as well as the production equipment and related operating costs.
Consumer appeal is increased with a larger, full-aperture drink opening to allow the most aromatics from beverages. The cup-like drinkability is also a welcomed attribute of the CRE's design. The larger opening also ensures smooth pouring and excellent liquid flow without any undesired "glugging" of the product.
CRE's larger opening also allows safe and easy access to wet or dry foods and snacks, pet foods, and other products like cannabis and pharmaceuticals, household supplies, personal care, and many others.
Paint cans would benefit from cans that are easier to open, clean, then reseal again. Third-party consumer research has shown CanReseal® paint cans would improve the user experience and be seen as an influence the purchasing decision.
With the CRE™ configuration, Canovation has devised a can design that adds value and resealability across many market segments, and potentially does so for less than conventional, SOT, Peelable, or EOE cans!
CanReseal Easy-Open End (CEOE™)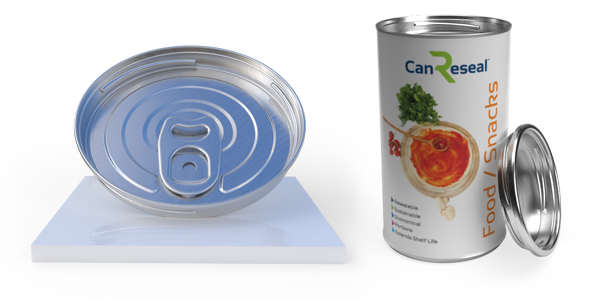 The CEOE™ is the evolution of cans for food, pet food, and other general uses. The Easy-Open End has become the leading option due to consumer preference and convenience for many of these products. Another benefit of "self-opening" cans is the readily available access to the product without a can opener or similar tools. This is a welcome attribute by consumers with limited or impaired mobility, children, as well as those with adventurous lifestyles.
CanReseal's airtight seal added to the convenience of Easy-Open Ends creates all new CEOE™, with opportunities for cans and builds on the existing ones. Every positive quality attributed to cans remains the same, including the long shelf life, strength and durability, low cost, and outstanding sustainability.
Depending on the product and sales channel, brands may choose to sell cans with an included metal closure. Alternatively, reusable, dishwasher safe closures of standard sizes may be offered, much like today's overcaps. Unlike today's overcaps, CanReseal® closures are designed to provide a reliable, airtight seal. The CEOE™ takes cans to a whole new level!
CanReseal Stay-On Tab (CSOT™)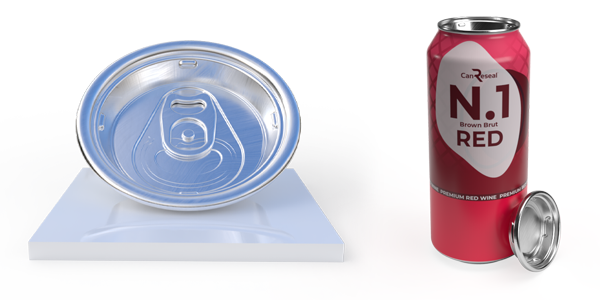 The CSOT™ is the beverage can as it is known today - with the added resealability function needed for tomorrow. Suitable for sales channels where brands would offer their beverage products with only the ability to be reseal.
The cost of a CSOT™ resealable lid and metal closure assembly is less than the cost of two traditional, lightweight SOT ends of the same size and specification. This highlights the favorable economics of Canovation's answer to resealability.
CanReseal Peel-Off (CPO™)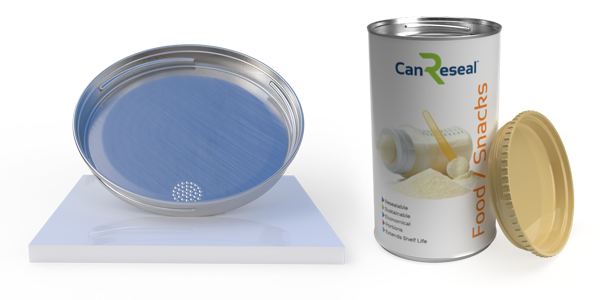 The CPO™ is intended for brands which may choose to use a peelable end for their products. This may be beneficial where there is a need for a peel-off cover that is soft, safe, and easy to recycle or dispose of. Consumers are also treated to an easy and smooth-to-open container.
Like on the CEOE™, the package may or may not include a closure depending on the product brand's requirements. Like our other CanReseal® configurations, the CPO™ offers dependable and economical resealability.
Key to its success and adoption is CanReseal's cost potential. Manufacturing and material use estimates strongly favor CanReseal over all existing, fully resealable metal containers. In certain configurations, CanReseal's cost approximates that of traditional, non-resealable can ends of comparable specifications.
CanReseal excels with production ideologies that are the same as conventional can ends, allowing it to take full advantage of established and mature manufacturing practices without the need for specialized equipment. CanReseal® may be produced at most existing manufacturing facilities worldwide with minimal tooling changes, making rapid, global adoption possible.
Both the CanReseal® lid and closure shells nest within each other and are compatible with conventional conveyance and processing systems. Sleeve palletizers, transport, seaming, and other supply-chain and processes related considerations are unaffected.
A driving factor during the CanReseal's multi-year development was compatibility with existing processes at the can filler locations. CanReseal ends and closures are generally symmetrical and will nest together to remain compatible with conventional feeding and seaming systems. CanReseal's design prioritizes the requirement to avoid major investments at the filler's operations.
CanReseal is compatible with industry-standard seamers with slight tooling optimization, making CanReseal a drop-in solution with no requirement for specialized equipment or major investments in CAPEX at the filler or packager. It is also anticipated that CanReseal will not cause a loss of efficiency or speed while filling.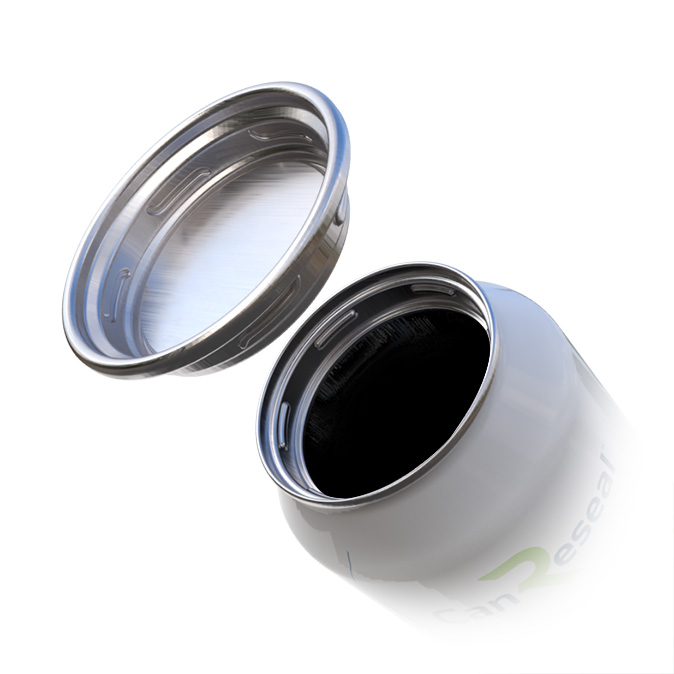 Cans with Enhanced and Premium Appeal
The opportunities CanReseal offers product brands goes far beyond the added value from resealability or its environmental sustainability. CanReseal is also a terrific marketing differentiator and promotional tool.
Potential uses for the CanReseal include adding promotional codes hidden under the closure, which are only visible when the can is opened. The closure itself offers additional space for branding or other information, useful for catching a consumer's eye from a different angle.
The CanReseal assembly is just different enough from conventional cans to become a simple yet effective enhancement, helping products stand out from the crowd. CanReseal is eye-catching, gives cans a finishing touch, and helps reinforce brand communications.
CanReseal is a new canvas for brands to do some creative marketing with:
Strengthen consumer loyalty because of added convenience and addresses environmental sensitivities.
Motivates consumers to pick up the product off the shelf.
New areas for messaging boosts attention to the brand
Encourages different behavior with the package, making it collectible or repurposed for other creative uses by the customer.
Multiple and customizable design options for the CanReseal closures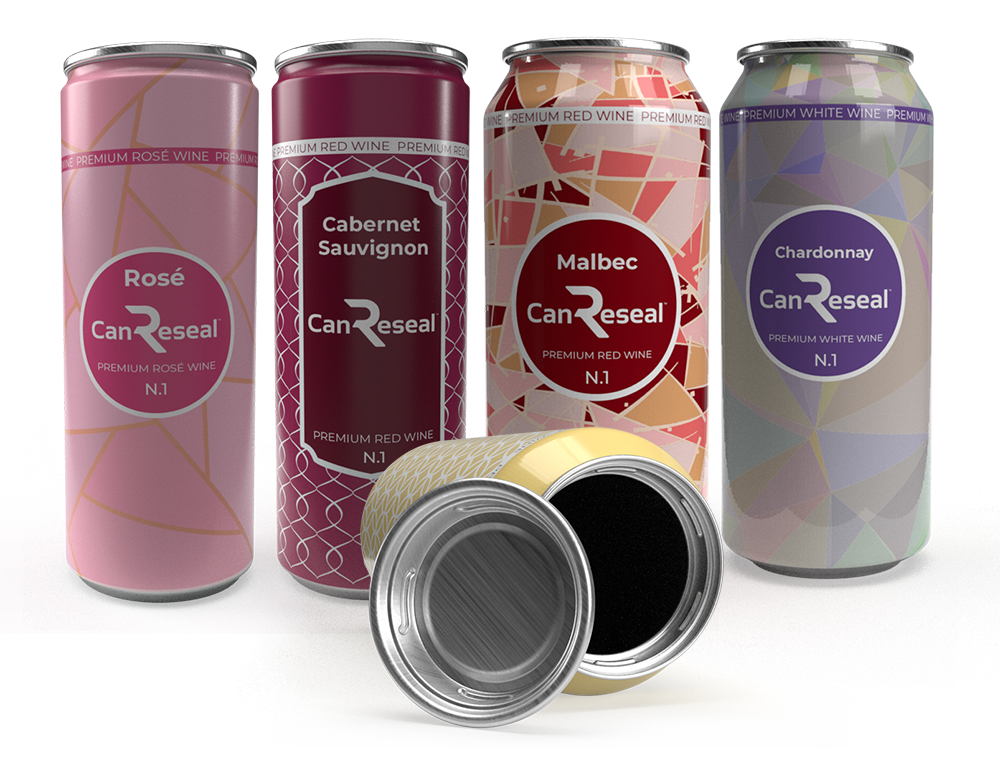 A Different Kind of the Same
While new and revolutionary, CanReseal will still feel like a familiar can to consumers. Regardless of the application, CanReseal's user experience is no different than that of conventional cans, save for the addition of an easy and intuitive twist closure.
Resealability makes all the difference to consumers for certain applications. On-the-go portability is an immediate and obvious advantage of CanReseal. Consumers will be treated to a user-friendly experience not previously available from cans, providing them with a reliable, leak-proof closure on their cans while also protecting contents from insects, dirt, and spillage.
Resealability is also critical for consumers to portion out their product, whether that be a beverage, food or snack, personal care product, or any other CanReseal packaged good. This makes for an important tool to purchase products in volume while also reducing product waste, both providing the consumer a cost savings.
CanReseal's air and liquid tight seal means that consumers may now benefit from a longer shelf-life for their opened goods. No more foil or plastic wraps, barely functional snap-on overcaps, or transferring leftover products to other resealable containers. CanReseal delivers convenience.
CanReseal's innovative design builds on an already trusted packaging option that meets all public health and safety standards. It is made from the most sustainable and environmentally friendly packaging materials in use, and is compatible with today's profitable, closed-loop recycling infrastructure.
CanReseal integrates easily into existing manufacturing and supply-chain networks, making rapid global adoption a possibility. This game-changing advancement in can design provides an affordable, resealable container that is significantly better for the environment and could potentially revolutionize the way we package, store, sell, and consume our favorite products.